Midwest Research, having been founded in 1963,  is one of the pioneers in contract research.  We have 10 full-time staff with over 100 years of experience in agricultural research. Over the years, consistency and confidentiality has been our priority. As industry changes, we strive to make the necessary improvements and adjustments for our clientele and provide the data you need when you need it.
Location
Midwest Research Inc. is located near York, Nebraska in the south central area of the state. We are just a few miles north of Interstate 80, about 50 miles west of Lincoln. At the research station northwest of York, we have 1000 acres of uniform, well-drained silt loam soil in EPA Region 5.  We also have a loamy sand site, which is located on the Platte River bottom approximately 30 miles north of York, and a third site located 50 miles west near Grand Island, NE in EPA Region 7. The 3 sites are owned and operated by management, giving us complete control of our research. The area has an abundant supply of groundwater, giving us the ability to irrigate 100% of our land.
The bulk of our research is done on site; however, we are able to work off-site.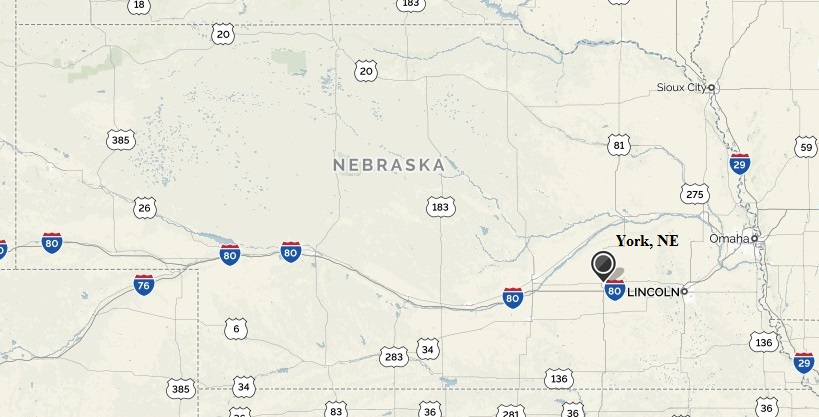 Climate
The 2012 USDA Hardiness Zones places all three of our growing locations into Zone 5, with an average of 27 inches of precipitation, hot summers and cold winters; this makes the climate here conducive for cultivation of a large number of specialty crops, outside of the standard corn-soybean rotation.
Crops Grown:
Corn
Soybeans
Grain Sorghum
Sugarbeets
Chicory
Oil Crops
Small Grains

Wheat
Oats
Barley
Rye
Triticale
Millet

Clovers
Alfalfa
Turf & Pasture Grasses

Smooth Brome
Tall Fescue
Warm Season Grasses
Kentucky Bluegrass

Garden Vegetables

Edible beans
Peas
Radish
Lettuce
Potatoes
Peppers
Onions